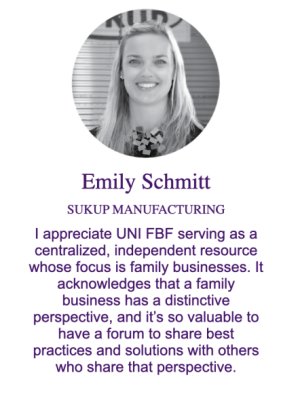 Why join the Family Business Program?
To us, the benefits and importance of family businesses networking together are clear. Our mantra, "family businesses are different," is not just a catchy phrase. We believe family businesses are different because of the unique challenges during their start up, and those which continue through the life of the business.
While every business faces challenges, we have found through the past few years of working closely with Iowa business owners, that there is a specific need for support in conserving family businesses in our home state. The focus of the Advance Iowa Family Business Forum is to create a community of family businesses that will have the ability to learn about business governance, continuity, strategic planning, leadership transition and growth together. 
Whether you are currently struggling to create a family dynamic within your business, or if you feel your business is confident within functioning as family business, participating in the UNI Family Business Program is for you!
---
Family Business Magazine Offer
For a discounted subscription to the Family Business Magazine download this flyer.  
---
Contact Us
At familybusinessforum@uni.edu or call 319-273-4692 (IOWA)