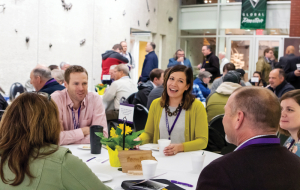 To us, the benefits and importance of family businesses networking together are clear. Our focus is on consulting through education and awareness, offering leadership and skill development, ecosystem building and networking opportunities, and a platform for peer learning. Our mission is committed to strengthening the viability and success of Iowa's family owned businesses.
Whether you are currently struggling to create a family dynamic within your business, or if you feel your business is confident within functioning as family business, joining the UNI Family Business Center is for you!
Benefits
Breakfast Series » Unlimited screens for your family at all of our virtual breakfast series events!
Now and Next Generation Leadership Peer Group Discount » Get a discounted seat for your rising family member with our program designed to identify, develop, network and empower the next generation of Iowa family business leaders. 
Online Community » Connect with other Iowa family businesses in a safe and confidential online platform available any time.

CEO Peer Group Discount » This confidential group is focused on providing CEOs an opportunity to problem-solve and get creative with their peers. 

Bi-Monthly Newsletter » Stay informed on the latest program updates, events and other news happening at the Family Business Center.

Strategic and Succession Planning Support » Work with our team in a one-on-one or group environment at a discounted rate. 

Topical Workshops » Are there pain points we can help you with? Learn from our experts who will provide targeted education on critical family business issues. 

Annual Conference » Each year, we bring in leaders from the family business world to help you navigate best practices, tough conversations and more.

Summer Golf Outing » A fun, networking event just for Iowa Family Businesses.
and much more... We are always exploring new ways to enhance our programming. Who knows what we will come up with next! 
Download the Membership Booklet for Benefits
If you have questions, you can contact our team at familybusinesscenter@uni.edu or reach us individually by clicking here.