Conlon Construction: Construction, philanthropy and letting go of the veil of secrecy
May 10, 2023
Conlon Construction: Construction, philanthropy and letting go of the veil of secrecy

By Kate McAlister
120 years ago, in Cuba City Wisconsin, R.F. Conlon started a company that would one day become a foundational part of the Midwest economy.
After starting the paving and building company in 1903, R.F. and his wife Louisa moved to Dubuque in hopes of better educational opportunities for their 11 kids. R.F. died suddenly in 1935 and three of their boys took over the business. One of the sons, Vince, moved to St. Cloud, Minnesota, to open his own Conlon Construction that has been running ever since. The other two sons, Orlan and Dell, stayed in Dubuque to carry on the business. Between Orlin and Dell, their three sons—Tim, Steve, and Mike—became the third generation to take over the family business.
Today, Tim and Steve are still working for Conlon and already have a succession plan in place for the fourth generation to assume leadership. At the helm will be cousins Poppy, and Becky, Vice Presidents of Conlon Construction.
"We don't have a construction background like Dad and Tim do," said Becky. "It's nice because they can appreciate the skills we bring to the table that aren't traditional construction skills."
While the commercial construction company remains headquartered in Dubuque, it has expanded using traveling teams to work across the country. They provide construction management, national construction and retail fixturing, commercial development, and facilities maintenance services.
Conlon has worked for many big corporations, but is most known for their consistent work with Target. 
"We built the first and only Target store here in Dubuque in 1979 and that relationship, I suggest, went so well that Target invited us to go to Waterloo for a project a year later. We've worked with them nonstop ever since and we've completed over 4,000 projects across the country for Target in that time," said Becky.
Locally, Conlon Construction has worked with MercyOne Dubuque Cancer Center and UnityPoint Finley Hospital. They have multiple higher education campuses in their portfolio, including the University of Dubuque, Loras College and Clarke University. They have also worked with The Sisters of Charity BVM since the 1920s.
Conlon Construction is taking on some larger projects today. In Waukee, they're helping construct the Live Nation Venue concert arena, along with a hotel and a 55+ housing development. In addition, at the University of Iowa, they are building a parking ramp near Kinnick Stadium.
"We have an amazing team that just keeps getting better," said Becky, who attributes their family business success to both family and nonfamily employees.
In fact, Conlon has just recently introduced a new nonfamily executive to the leadership team. Matt Mulligan has been appointed president and chief operations officer, and Becky is excited for the experiences and leadership he can bring to the company. 
"There's a new sense of energy. We're making inroads into areas we didn't think we would two years ago, which is super exciting," said Becky.
Conlon has also been recognized as a staple of the Dubuque community. In 2011, the Conlon family was recognized by the Dubuque Historical Society as one of the Treasures of Dubuque, which honors an individual or family with a long history and presence in the area, both professionally and philanthropically. They have also been recognized with Masters Awards by the Master Builders of Iowa for both the National Mississippi River Museum & Aquarium and the University of Dubuque's Heritage Center. Notably, Conlon has been recognized by Target as their Vendor Award of Excellence recipient in 1996, the first contractor to ever win the award.
"Quality work and philanthropy are really important to us. They're what we're most proud of as a company and a family, supporting the communities we work in and live in," Becky said.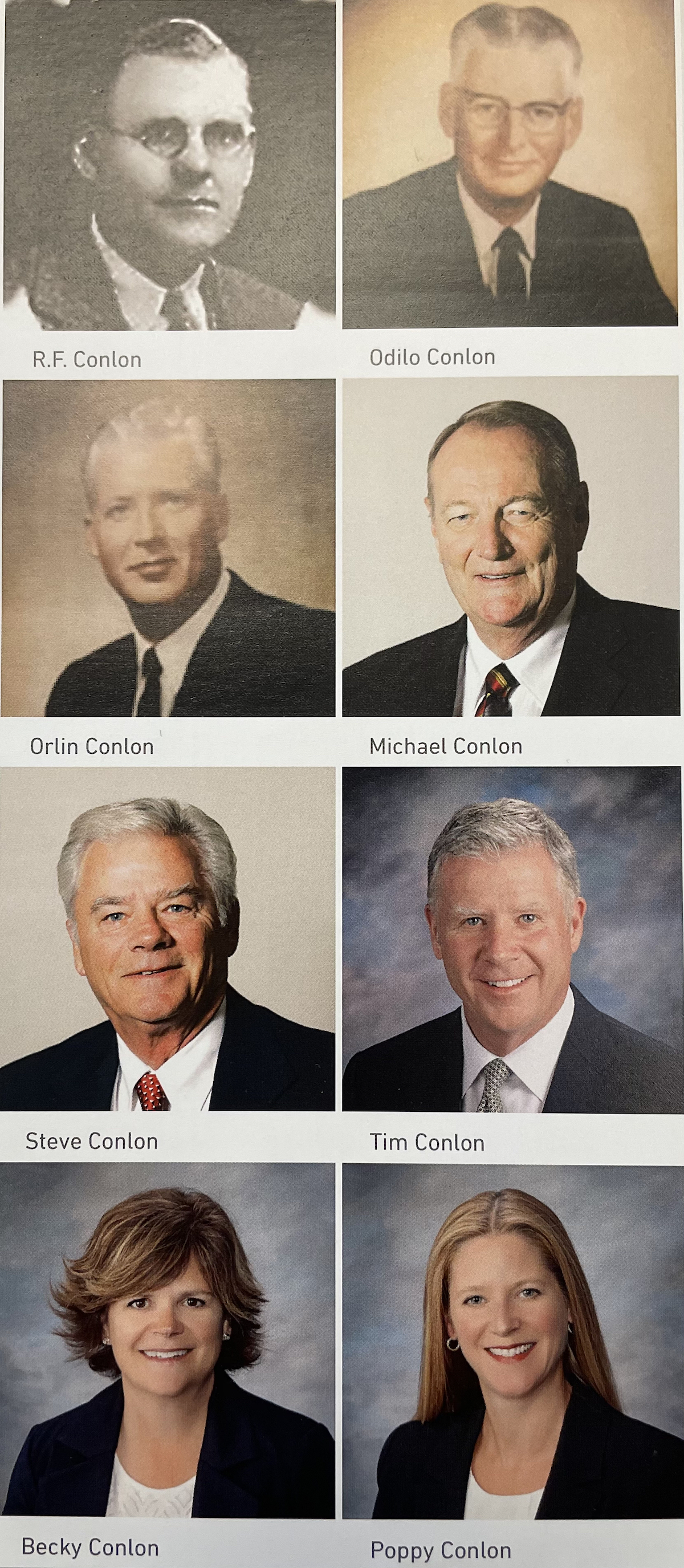 However, family businesses always have their challenges. 
"In order to keep a family business in business throughout hard times, the generations each have their own challenges to work through," said Becky. "The older generation must be willing to step away from day-to-day operations and be able to adopt new business strategies. Trust between the generations is critical."
Collaboration and remembering their roots has proven to be the best strategy for the family business.
"The younger generation needs to remember the sacrifice and hard work that the generations before them have made. Working together when we are expanding or considering new opportunities for growth is very important when it comes to keeping us running," said Becky.
When it comes to governance and communication, Conlon Construction believes that everyone in the family should have an open mindset.
"Family members should meet regularly to talk about things like expectations, fairness, accountability, and value differences between the generations," said Becky. "Families need to stay grounded and remember that no one is entitled to anything because of their name. The family members need to work just as hard, if not harder, than anyone else in the company."
Becky believes that a big generational problem that takes hold of many family businesses is transparency.
"Remind the older generation to lift the veil of secrecy. The more the younger generation knows about the good and the bad within a company, and the sooner, the better."