Hear from seasoned professionals with this panelist series! Five times each year, family business members and service providers share their experiences on a variety of family business-related topics. You'll get a chance to interact with families who have been through some of the same experiences as you. All sessions are hosted on Zoom and provide an opportunity for breakout discussions and a Q&A with the panelists.
The Virtual Breakfast Series is free to families with a UNI Family Business Center membership. Prospective members are welcome to one free trial session. Register for the sessions below!
"Extremely valuable for anyone involved in family businesses or improving interpersonal relationships. We are all blessed to even have these issues and nothing is truly impossible to solve."
Chris Vernon
CHAIRMAN AND CEO, THE VERNON COMPANY
Navigating Conflict: Keep it in the Family / Aug. 25, 2022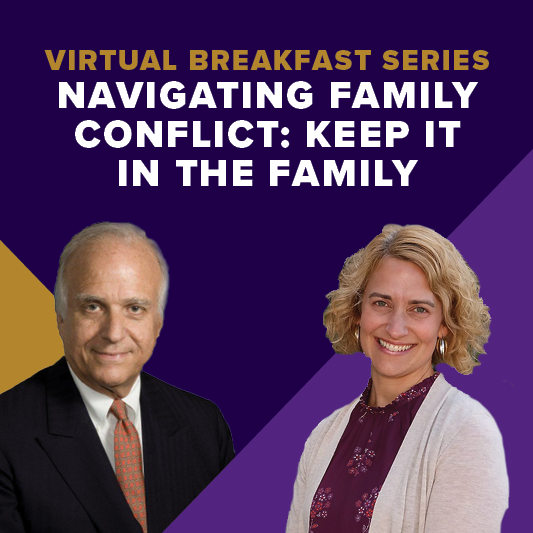 ‌Do you have a strategy for navigating conflict within your family and family business? Family businesses seek prosperity in both areas, but underlying family conflict, differing below-the-line interests and underperforming business units often derail such aspirations for all. Then, these issues adversely impact the family business and family relationships. As recent speaker and family business guru Dennis Jaffe said, "a family business is the most complex organizational system that exists." While most family businesses are founded and managed by first- or second-generation family members, only about 10% make it to the third generation. The main reasons are conflicting personal interests and professional mismanagement. In session one of the 2022-2023 Virtual Breakfast Series, panelists Dennis Passis and Heidi Vermeer-Quist focused on tools to manage the complexities of the family business, healthy boundaries, clarifying goals and roles, expressing commitments to the family and business, and tools for conflict resolution.
Translating Family Values into the Family Business / Oct. 20, 2022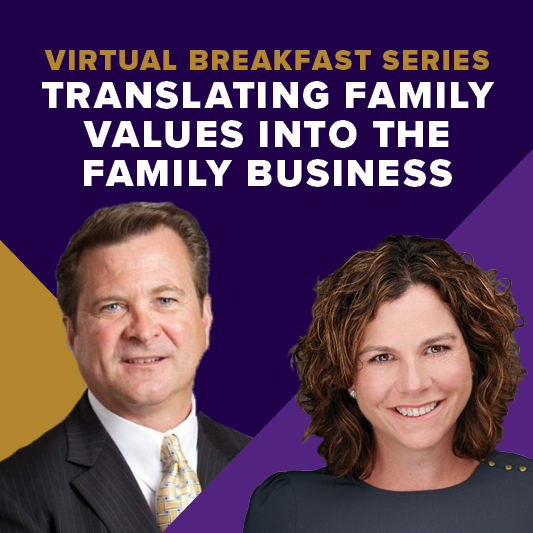 Family businesses are created with values ingrained in the DNA of the family and passed from generation to generation. Some families find ways to embrace, celebrate, and translate these values within the business itself. Our values have deep roots and dictate how we live and work. For example, Hobby Lobby, Burton, Gallo, Nike, White Castle are all family-operated and find ways to live their family values within the business. In this session of the Virtual Breakfast Series, panelists Paul Darley of W.S. Darley and Katie Rucker of MacKenzie Corporation discuss how they have been able to translate their values into the fabric of the family business. Join us to reflect on your values and ideas on how to apply those to the family business. 
Transition When You Don't See it Coming (And When You Do) / Jan. 19, 2023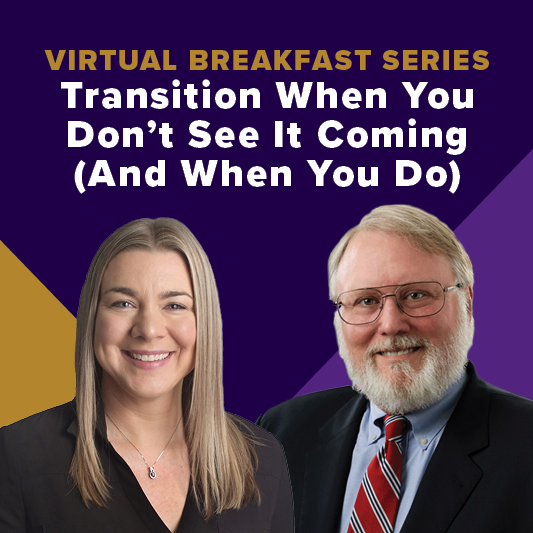 The process of succession looks different for each family. Some transitions are well prepared while other times they may happen out of our control. Hear from Stacey Bales, president of Bales Metal Surface Solutions, and Jim Sandstrom, former president and CEO, HM Graphics, Inc., on how they navigated their generational leadership and ownership succession plans. Learn tips and tools they used to choose who would manage the company and how they communicated this change with family, employees, vendors and customers. Also, learn how the senior generation might let go of control and methods the next generation can use to gain trust.
Governance: The Foundation for Every Successful Family Business / March 31, 2023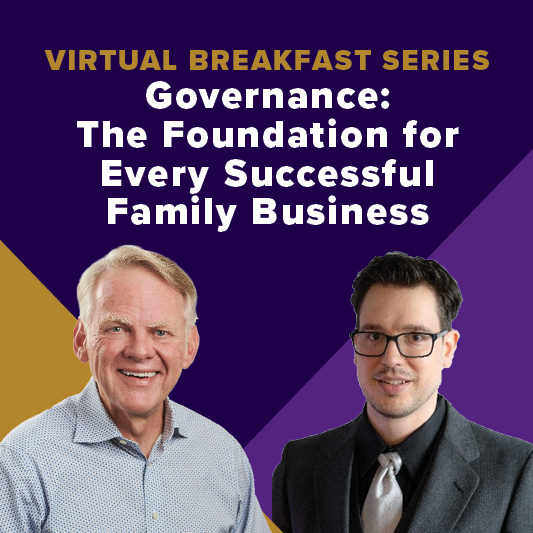 In our fourth session of the 2022-23 Virtual Breakfast Series, we'll overview the most basic policies to more complex ones like family councils, constitutions and shareholder agreements. Plus, we're welcoming Joe King and Maxwell Youngquist to the virtual stage as panelists! Joe is the owner of King Technology, who founded the business in the pool and spa industry with his father. Maxwell is a senior manager at RSM, who works in RSM's family office services and has also worked for a family office in the past. He will share his unique experiences with different governance options and which ones might be a fit for your family business. Together, they will share the power of creating and sustaining a solid governance foundation—plus some personal insights along the way.
Balancing Legacy and Innovation in the Family Business / May 19, 2023
The balancing act between the legacy of the family business and the spirit of entrepreneurship can be a challenge. Staying relevant in the family business requires both innovation and entrepreneurship, but how can you achieve the balance? Multi-generational companies often look very different from the business that the founder established.
This final session of the 2022-2023 Virtual Breakfast Series will feature a family business that is familiar with innovation: Radio Flyer. You might recognize them from their iconic little red wagon, tricycle, or any number of children and family toys. Chief Wagon Officer Robert Pasin will share their family's 100-year legacy of innovating and how they continue to move forward while honoring where they came from.