Family Business Feature: Weiler and employees learn from one another
Sep 14, 2021
Family Business Feature: Weiler and employees learn from one another
By Katie Kreis, UNI Family Business Center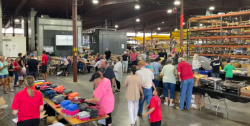 Company: Weiler, Inc.
Business: Designs, engineers and manufactures equipment for the paving market
Headquarters: Knoxville, Iowa
Founded: 2000 by Pat Weiler
Employees: 500
As Weiler, Inc. wrapped up its Family Day event this year, its stakeholders saw the direct benefit of celebrating employees' families and engaging them directly with the family business. Megan Weiler Green, counsel, engineering manager and president of the Weiler Foundation, originally thought Family Day would be a one-time thing. Since the second event on Aug. 20, it has proven to be a resounding success.
"Being a family-run business, it's important for us to be reminded that we're not the only family that's supported here," said Green. "Every employee's family is participating—it's important to us that the families see how critical their family member is to the work we do here."
The equipment manufacturing business was founded by Pat Weiler in 2000 with only four employees. Now, Weiler employs over 500 from 51 different zip codes and gives back to both employees and their communities whenever possible.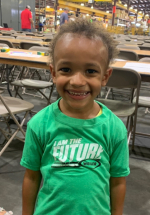 "We're one of the largest employers in Knoxville," said Green. "To take a business from 4 to 511 employees, it takes a big commitment from the community. We just announced a significant $500,000 donation to the school district to support some programs they have going on there. Sharon Weiler is very passionate about public libraries and we've supported major renovations to several area libraries. If an employee comes to us to request funding for something that they are passionate about, we try to be intentional and support them in that way. If they're spending their free time volunteering, we want to show them that our values align with theirs and help contribute to an organization that they find important."
Family Day was another opportunity to engage with Knoxville and surrounding communities, plus a way for Weiler to educate their employees' families about the work they do. 
"Our employees spend a third of their days here and maybe their family has never seen where they work or realized how hard their parent is working to provide for their family," said Green. "I also think it's important from a community perspective because people's vision of what a manufacturing facility looks like isn't necessarily accurate anymore."
Over 1,000 people attended Family Day this year. There were scavenger hunts throughout the plant, opportunities for kids to win prizes, fresh cotton candy on site and a meal provided by Weiler.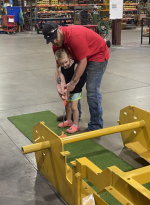 "It was fun, and it's nice to see people in their element with their kids showing off their work," said Green. "We took pieces of the equipment we make and components from our machining centers to make games for the kids. For example, we used a long part from one of the machines we manufacture and turned it into a putting green."
Their family focus is intentional and well thought-out. Green was the first of her siblings to work at Weiler and, even prior to her start at the company in 2017, the family had a strategy to ensure they would be successful.
"We have a family employment policy that we came up with as a group," said Green. "If anybody was going to come back, they would work at least five years somewhere else. They also needed to get promoted twice on their own merits. We wanted to make sure that, if we came back, we could do it with our heads held high saying, 'I know that I could have been successful elsewhere,' not 'I'm successful because my name is on the building.' We've been very fortunate to work together as a family in that we all have transferable skills to bring. We've all been willing to learn and adapt and grow in the positions we've held rather than doing what we want to do or feel most comfortable doing."
The Weiler family continues to innovate and make their employees more comfortable, announcing the addition of air conditioning to their production facility in 2022.
"The best part about being an Iowa-based family business is that people want a family business to succeed," said Green. "Those Iowa farm roots motivate people to want to see a company successfully pass on from generation to generation and to remain a family business. There is a desire in our community and at the state level, and as we talk to the legislative contingent, for us to stay a family business. It just makes me feel like we're doing the right thing."
Learn more about Weiler, Inc. at www.weilerproducts.com. 
Continue the Conversation
What does your family business do to connect employees and their families?
What family values does your family business try to exemplify within the company?